The REAL McCOY'S Four Pocket Wool Work Coat
Go to our online shopping site

Hello everyone! Barn Stormer here.
Let me introduce a four pocket wool work coat from The REAL McCOY'S.
Stock No. MJ17133
Color: Black
Price: 60500 yen
Very classical wool coat…
Common people loved them as casual clothes in 1930s.
Looks like a pea coat? … maybe not.
Let's say it's a "casual pea coat" on the street.
It's made of oil cut wool dyed in dark navy.
It looks heavy but it's lighter than I thought.
Pockets and end of sleeves are finished with horsehide leather piping.
It's not too much and goes well in this simple designed coat.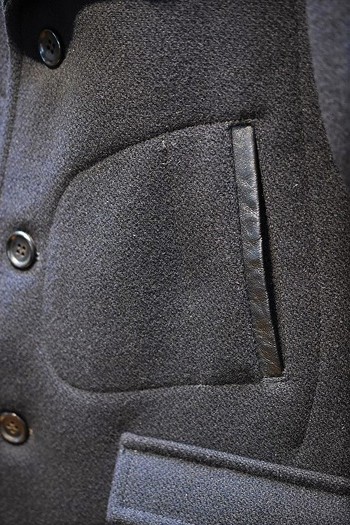 Original nut button
Needles to say, winter is the time to wear woolen clothes.
Here is the best item to light up your winter time.
Check our website for online shopping
Until next time…