JELADO 100 Tigers Pullover
Go to our online shopping site

Hello everyone! Barn Stormer here.
100 Tigers shirts have arrived from JELADO.
Price: 19440 yen
Color: Black
It's different from well-known Aloha shirts… yes, it's a pullover style.
The fabric is made of 83 % cotton and 17 % silk,
which feels the most comfortable among previous JELADO aloha shirts.
It slightly shines as it contains silk.
The fabric is stretchy, so you would have no problem to put it on.
Coconut buttons
Color: Tomato Red

It looks totally different from the black one.
The impression of tigers is milder as tigers are blended into the base color.
When I saw them, my choice was the black one,
but after trying them on, I would choose the tomato red one!
It would be better to try them on when you choose garments with patterns or lots of colors such as aloha/flannel shirts.
You might find yourself fitting into the color you didn't imagine that it would suit you.
Yes, just like me : )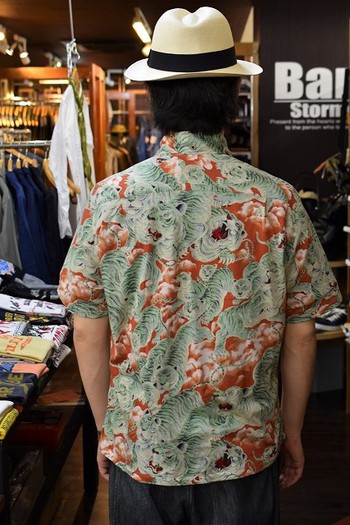 I know that simple is best,
but jazz up in summer and enjoy patterns with colors!
Check our website for online shopping
Until next time…