COLIMBO Bethpage Short Jacket
Go to our online shopping site

Hello everyone! Barn Stormer here.
Let me introduce a Bethpage short jacket from COLIMBO.
Price: 38880 yen
Model: Height 178 cm Weight 72 kg Trying size M on
(thin thermal wear underneath)
I normally choose size L (40) for COLIMBO products.
Size M fits me nicely with a thin inner wear in case of this jacket.
Now, let me try size L on.

It's roomy, but looks okay thanks to the raglan sleeves.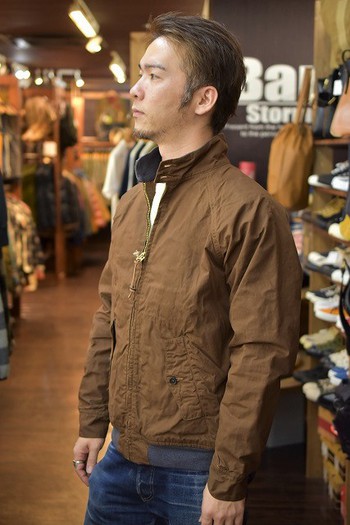 Inside the collar
It has small pockets inside of both sides.
It's little bit too small to put a packet of "LUCKY STRIKE".
Full scale:
S: Length of sleeves 82 cm / Width 50.5 cm / Length 59 cm
M: Length of sleeves 84 cm / Width 54 cm / Length 60.5 cm
L: Length of sleeves 86 cm / Width 58 cm / Length 64 cm
XL: Length of sleeves 90 cm / Width 60 cm / Length 66 cm
XXL: Length of sleeves 94 cm / Width 63 cm / Length 67.5 cm
If you prefer close-fitting, it would be good to choose one size smaller
than the size you normally choose for COLIMBO products.
Check our website for online shopping
Until next time…