Go to our online shopping site

Hello everyone! Barn Stormer here.
Henry neck T-shirts named "Gold Brick" have arrived from JELADO.
Price: 9072 yen
Color: Mango
It's a classical Henry neck T-shirt and the design is based on the image of workers in early 20th century.
Color: Fade Peach
Weft-knitting rib looks very classical.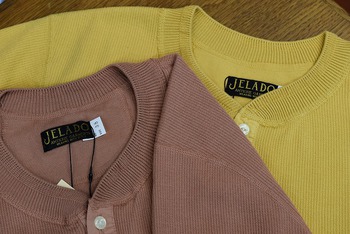 Small shell button
Flat seam
Enjoy this pique fabric that has vintage atmosphere…
Try a well-made T-shirt.
Check our website for online shopping
Until next time…